For a safe and secure journey whether its to and from your home, place of work, a night out or the beginning or end of your holiday give us a call. The business is run by long established Tadley residents Adrian Noad & Phil Kent so you can be assured of a reliable and courteous service. All of our drivers are based in the Tadley area.
We provide a Private Hire Service with short drops around Tadley and surrounding district or a bit further afield including Basingstoke, Reading, Newbury, the airports and docks.
Our fares are based on mileage only and we are always happy to agree a figure at the time of booking a journey. Fares can be paid in advance, or in the car using most credit/debit cards.
We have four estate cars licensed to carry upto 4 passengers and a minibus licensed to carry upto 8 passengers.
Please note we do not supply child seats but are happy to use your own and store them between journeys.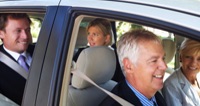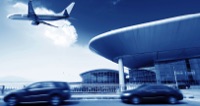 Please feel free to email by using the link opposite if you would like to check the availability of our service, or if you would like a quote before booking.
Upon receipt we will endeavour to respond as soon as possible.
PLEASE NOTE: if using a BTInternet.com account, our reply to you may automatically be directed to your Spam box which is only retriveable through the BT webmail - not the email client you maybe using on your desktop or mobile device.
Terms & Conditions
• To enable us to give you the best possible service we require at least 24 hours notice. However if the booking is of an immediate nature, we will try to accommodate but offer no guarantee that we can make the pick up at the time requested.
• Car parking – is included in the price for Airport pickups for the first hour. All other venues it is up to the hirer to pay the parking ticket on the day, the driver will produce a ticket as evidence of parking costs.
• No alcohol or food will be permitted ' inside' the vehicle at any time under any circumstances. Should the vehicle require valeting due to negligence or alcohol illness a charge will be made of £90.00 for Private hire vehicles and £100.00 for minibuses -to cover cost of cleaning and subsequent loss of earnings.
• Smoking is not permitted in the vehicles and is against the law in the UK.
• The company reserve the right to decline any bookings and to request any passenger to leave the vehicle if it deems his/her conduct to be incompatible to the comfort or safety of the driver.
• Unless otherwise instructed by the passenger, routes travelled will be at the drivers discretion, in accordance with road, traffic and weather conditions, whether the route is the shortest or not. We will endeavour to take the shortest route but no allowance will be made to the hirer on the ground that the route adopted is not actually the shortest. The company nor its or employees will be responsible for any delay howsoever caused.
• Every endeavour is made to provide the type of vehicle that is requested, however, no liability will be accepted if this is not possible. An alternative vehicle of similar specification will be supplied in this event. We reserve the right to supply a Higher specification vehicle. No additional charge will be levied provided that the extra seats or facilities or capacity are unused.
• The carriage of luggage is entirely at the owner's risk, the Company will not be held responsible for any damage to, or loss of personal property carried within the luggage area or within the passenger area of the vehicle. Whilst we endeavour to estimate the amount of luggage transported on airport transfers, we are restricted on luggage compartment sizes. If we feel it is necessary to arrange for a larger vehicle to carry luggage in excess of notification this will be charged accordingly. Please note this does not necessarily equate with the number of persons carried.
• Every endeavour is made for the faultless running of the vehicles, but no responsibility can be accepted for any breakdown whatsoever or any additional expense or loss incurred by the client/s or passenger/s thereafter. All vehicles are cleaned prior to departure, but no liability can be accepted for clothing etc., being marked, stained or dirtied by road dirt, oil or grease from any part of the vehicles.
• Any damage, breakages etc to the vehicle upholstery, trimmings or seat belts will be the responsibly of the hirer who will be invoiced for the necessary repairs.
• All our vehicles are fitted with seat belts conforming to EU regulations, it is up to the hirer - not the driver - to ensure that seat belts are worn. The Company will not be held responsible for any claims resulting from the non or misuse of seat belts.
• The company reserve the right to pursue outstanding sums owed through civil court.
• All charges based on mileage are charged to the last mile or part thereof.
• If you have a problem or complaint it is essential that you inform the driver immediately, if you wish to make a formal complaint, please notify our office in writing no later than 7 days after your planned journey.
• Without prior notice: The Company reserves the right to amend, change, delete or add to these terms and conditions whenever necessary.
By clicking above you are consenting to our using the personal information supplied above to answer your enquiry and to facilitate any subsequent booking made. Your personal information will not be used for any future marketing purposes or passed to any third party.